Lone Palm Foundation Concert Ticket Raffle
Lone Palm is bringing you a chance to experience one of the greatest Buffett concert venues: Alpine Valley in East Troy, Wisconsin, on July 20.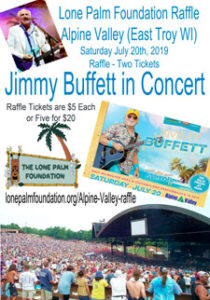 The lucky winner will receive:
Two pre-show hospitality passes
Two orchestra seating tickets
We use PayPal for purchases, and all proceeds benefit the Parrot Head Emergency PHUND. Here are other important pieces of information:
There are two passes
Tickets are $5 each or 5 tickets for $20
Purchases are NOT tax-deductible
Double-check to see that your name, telephone number and email address are included for each purchase
After adding your order to the cart below, you will be taken to our PayPal page to complete your purchase
Remember, the deadline to purchase your raffle tickets is June 15. We'll see you at Alpine!